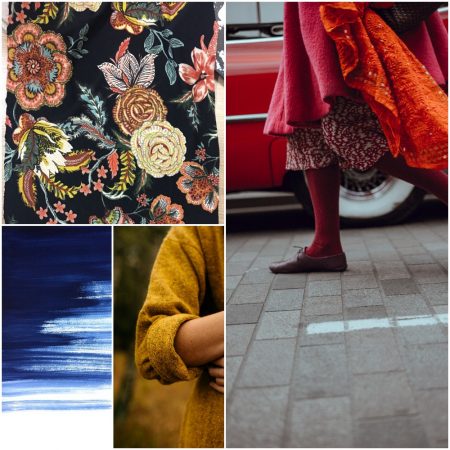 We're breaking down the trends for the 2017/2018 autumn/winter season so that you know what to expect in terms of the
influences driving fashion
colours and prints fabrics key clothing items.
During the course of the next few weeks, we'll explore the trends in each of these four areas. This week: the colours and prints for winter 2017/2018.
Colours Reds and burgundys: scarlet shades and deep carbenet tones are big colours for the season, especially paired with denim. A new bright red is coming through and is used in knitwear – soft, frill jerseys with balloon-sleeve blouses. Aubergine and grape tones add depth. Spiced yellows, such as thatch and amber, are new colours on the scene and work best in knitwear. Think of pairing these colours with soft baked pinks to create a retro-vintage feel. Jewel shades – as in teals, ambers, deep amethyst and ruby reds – are particularly prevalent in the prints derived from Eastern motifs and florals. Military greens are gaining attention again due to the influence of the military look this season. The earthy green palette is prominent and mixed with jewel colours and inky blues for an updated look. Inky blues continue as core colours. Navy and indigos appear in casual separates, knitwear and outerwear. Prints Florals are here again for the season. You can expect to see full, bright blooms against dark backgrounds in flat, statement floral prints. Think of full, voluptuous roses on deep, dark backgrounds with Gothic undertones of contracting linear leaves and petals. Colours are rish with hard-edged glamour. Animal prints from zebra, snake, tiger, leopard. Quirky placements with cats, flamingos and other animals. Leopard print is updated with vibrant colours and abstract renditions. Eastern-inspired motifs continue this season with birds, tigers and cherry blossoms appearing in prints.